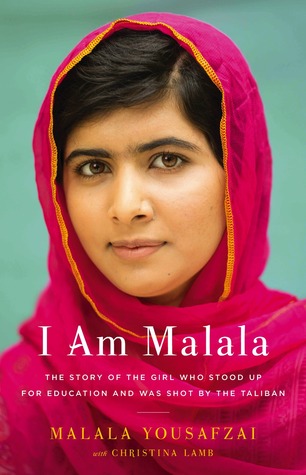 Reading this book made me think about what role did the US play to start their now on-going battle against terrorism. The first chapters of Malala's story briefly touched this, and now I want to watch Charlie Wilson's War, as my family did say that the movie was all about this.
I guess the influence of the US can also be seen not only in political wars but also in how a girl (Malala in this situation) lives her life and what she aspires to be. There were references about Ugly Betty (Malala's dream because of this show was to be a magazine editor) and Twilight (where in she and her friends would often pretend to be vampires.
It also made me think about how lucky I am to be born in a family (and a country) which values education. Malala's mother was learning to read and write when Malala had been fluent in English already. :(
Question on goodreads:
Did you find any sections in the book that were a little slow?
I never skimmed any page of this book. There were some parts that were heavy, thus making it slow. Just like those who comment here the parts about Pakistan's history was that. It had me googling who Benazir and General Sia was. It also had me questioning what part did the US play for Muslims to start thinking about war (the Russians in the textbook). That was why it took me a long time to read this book, because of the so many characters and the horrifying incidents that these people live on a daily basis.
The other half was actually a lot better and this made me quicken my reading pace.
Goodreads blurb:
I come from a country that was created at midnight. When I almost died it was just after midday.
When the Taliban took control of the Swat Valley in Pakistan, one girl spoke out. Malala Yousafzai refused to be silenced and fought for her right to an education.
On Tuesday, October 9, 2012, when she was fifteen, she almost paid the ultimate price. She was shot in the head at point-blank range while riding the bus home from school, and few expected her to survive.
Instead, Malala's miraculous recovery has taken her on an extraordinary journey from a remote valley in northern Pakistan to the halls of the United Nations in New York. At sixteen, she has become a global symbol of peaceful protest and the youngest-ever Nobel Peace Prize laureate.
I Am Malala
is the remarkable tale of a family uprooted by global terrorism, of the fight for girls' education, of a father who, himself a school owner, championed and encouraged his daughter to write and attend school, and of brave parents who have a fierce love for their daughter in a society that prizes sons.
I Am Malala
will make you believe in the power of one person's voice to inspire change in the world.