Admittedly, I am a Jen Aniston Fan. So, I have been waiting for this movie ever since IMDB said pre-production. Even more so, when it had gotten good reviews from the critics, and Jen receiving praises for her performance.
But this movie is not just all about Jen, who plays Dentist Julia Harris. This movie also features Jason Bateman, Jason Sudekis, Charlie Day, Colin Farrell, Kevin Spacey and Jamie Foxx.Horrible Bosses as the title implies is all about three friends (the two Jasons and Charlie Day) who have bosses (Jen, Kevin Spacey and Colin Farrell) making their life miserable. So they plot out to kill their bosses. They look in the internet for murderers. Then they go to a bar, where eventually they find a murder consultant ( Jamie Foxx).
So do they succeed in ending their misery? You have to watch the movie and find out for yourself. I swear you'll have your money's worth just laughing off at these three guys antics and what happened to them.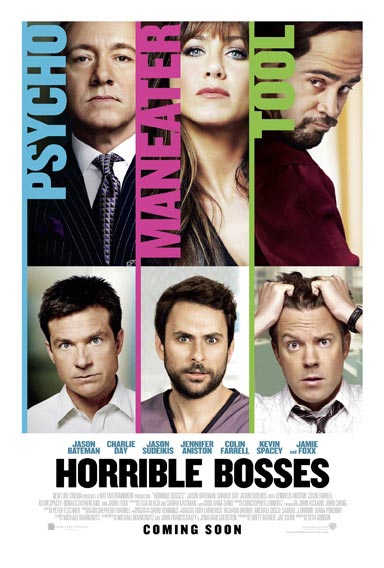 As for Jen, I can understand why it was such a positive response. It was a new character fo her. No only because oof the dark hair, but also the way she played it, You would see her in wearing nothing but her panties and her lab coat. I do wish that she would do more movies like this, well not exactly playing a maneater, but more of those which are outside her comfort zone.
I do hope that Wanderlust, the one that she is shooting with her boyfriend Justin Theroux would be as good or even better than Horrible Bosses.